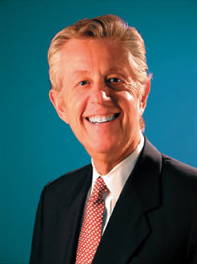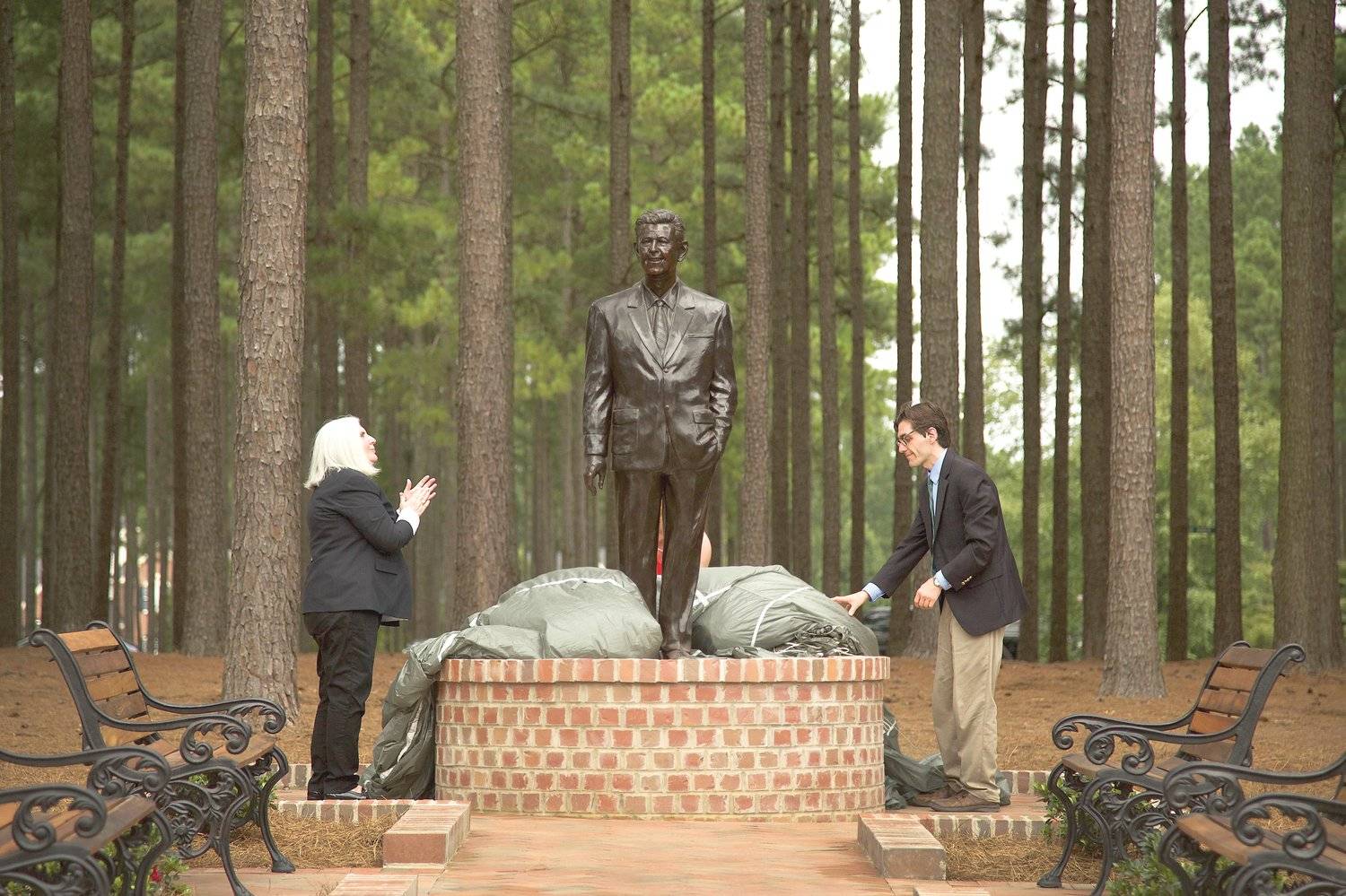 Marilyn Levinson, widow of Anderson Creek Club founder David Levinson, and their son, Dr. Micah Levinson, unveil a statute of David Levinson at the 20th anniversary celebration of the Anderson Creek Club community.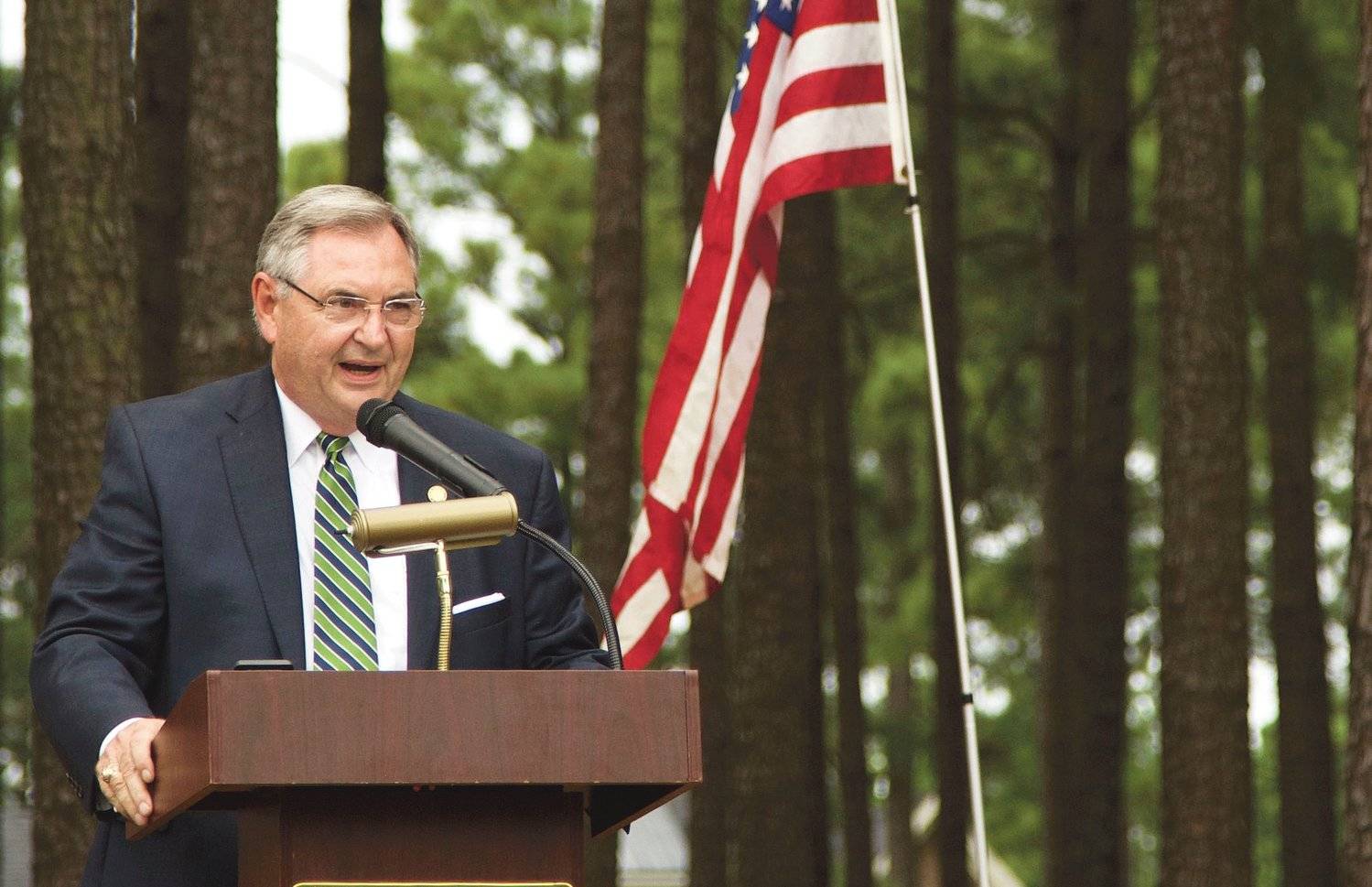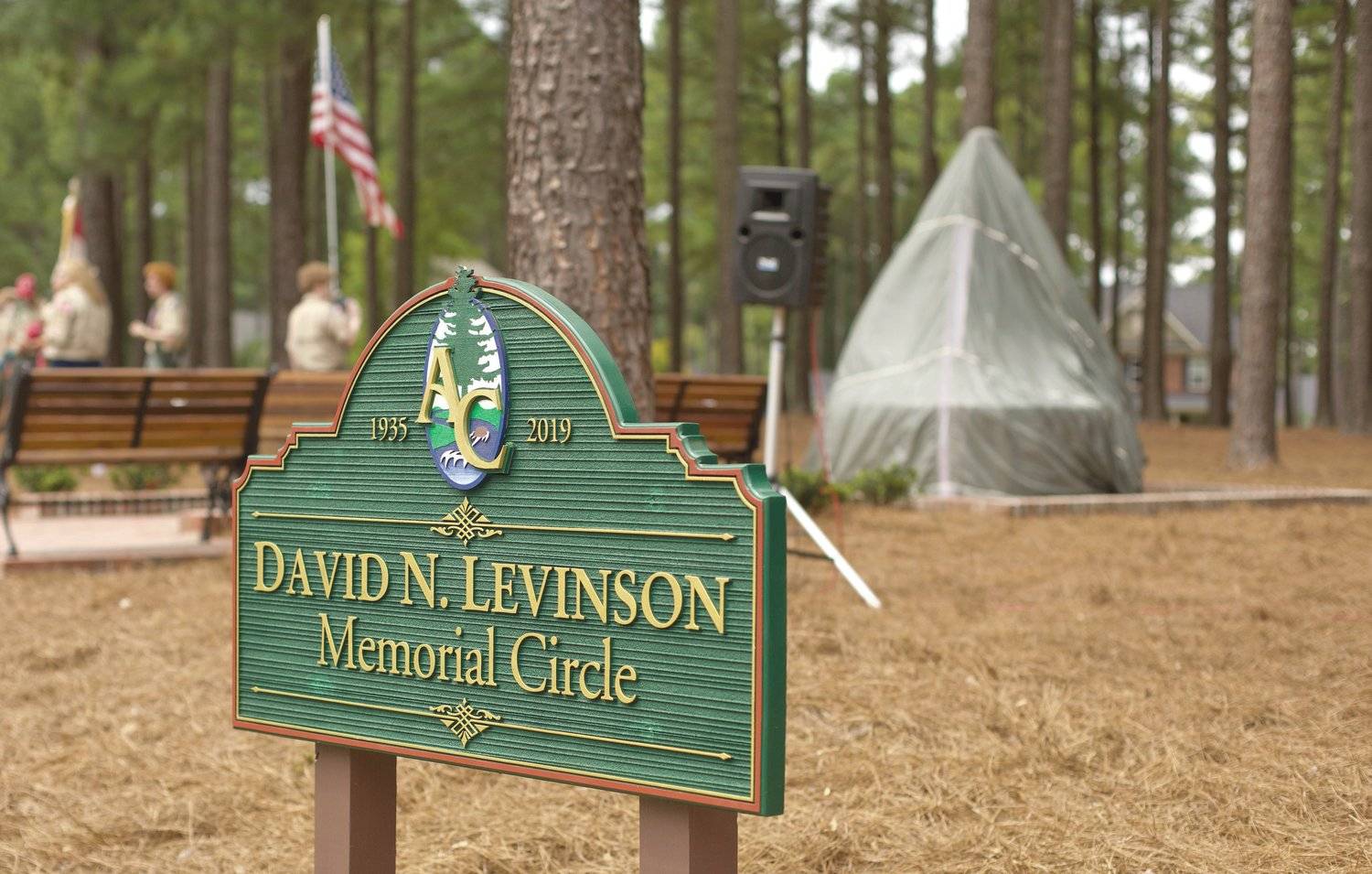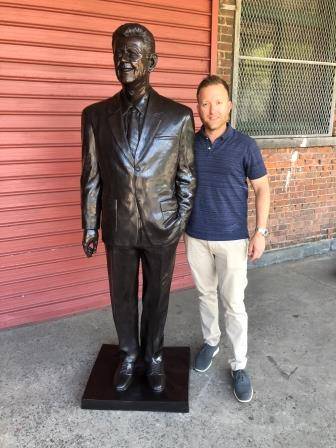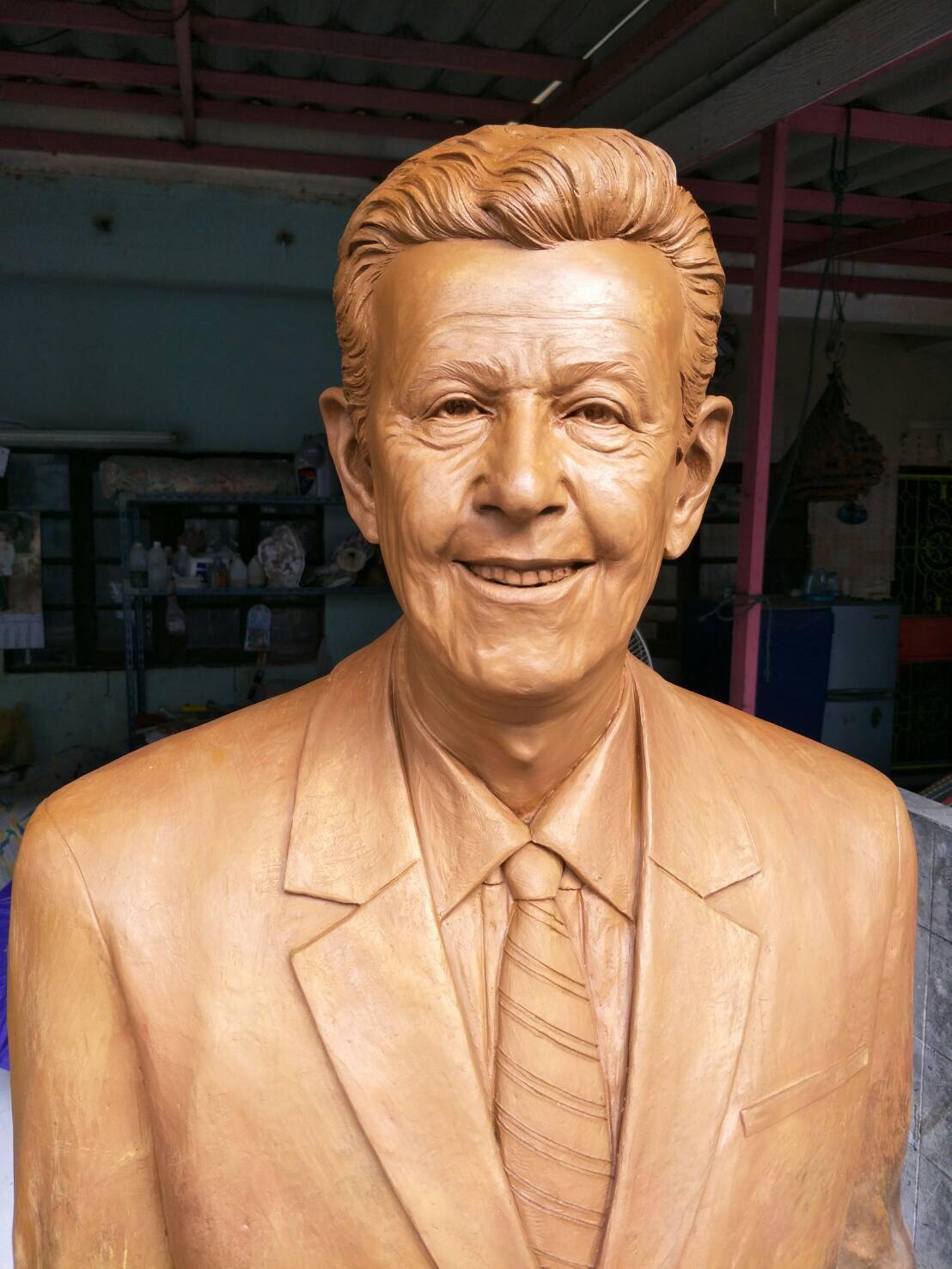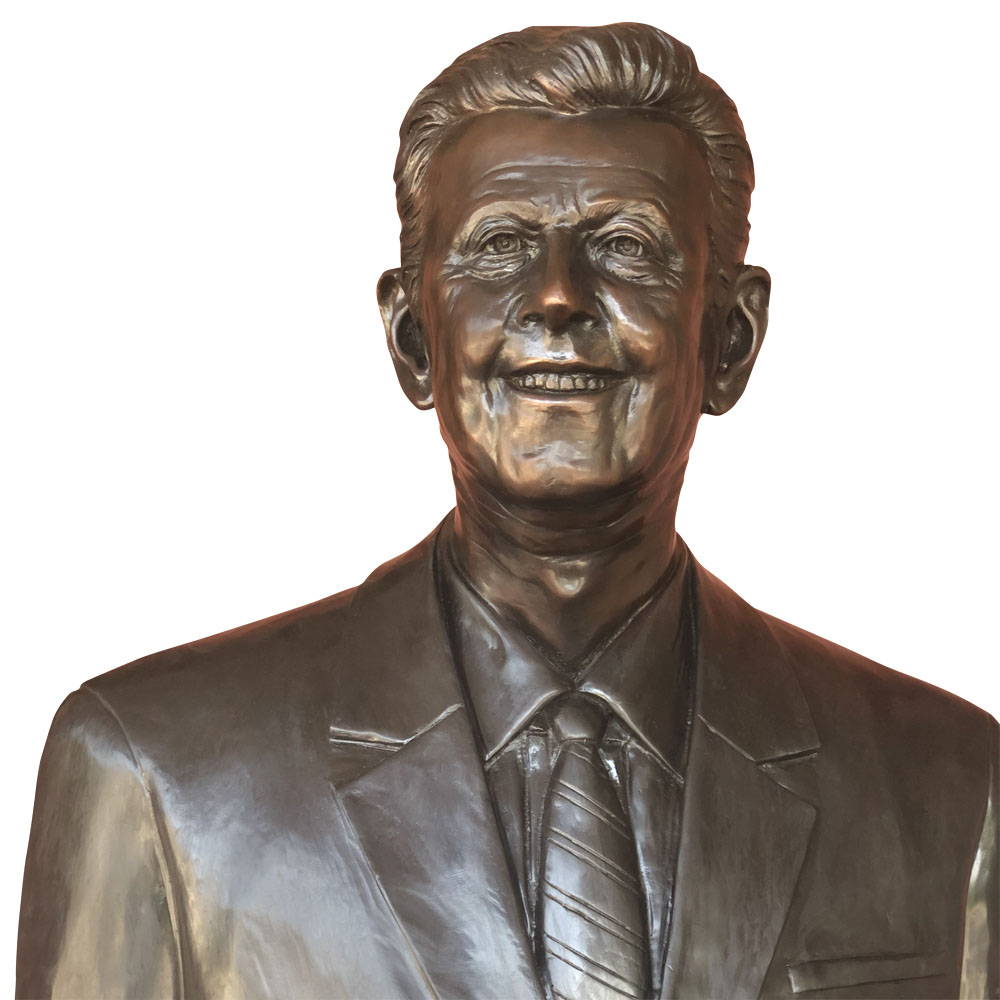 Article orignally appeared in The Daily Record
CONTRIBUTED PHOTO/SHARILYN WELLS
Harnett County neighbors and friends gathered recently to celebrate the 20th anniversary of Anderson Creek Club (ACC) and to commemorate and memorialize its founder, David N. Levinson.
In 1998, Levinson, an experienced Delaware Real Estate Developer, recognized the beauty and potential in a large pine tree farm in Harnett County. From the natural beauty, potential for diverse neighborhoods and the golf potential, he realized that this area would be a great place to live and play. He so loved the area that shortly after beginning development of Anderson Creek Club, he moved his family to Harnett County, where he lived until his death in 2019.
Levinson considered Anderson Creek Club to be his greatest real estate achievement. Developers broke ground in 2001 on the golf course, developed and designed by Davis Love III. The course was named "Best new golf course in NC" in 2001 and the beauty was recognized by the Hall of Fame Golfer as "a postcard on every hole."
Anderson Creek Club's construction also continued for homes and amenities. Today, ACC includes over 20 neighborhoods and park areas, multiple pools and gyms, and is adjacent to the Anderson Creek Academy Charter School — a free charter school available to all K-5 students who live in North Carolina.
Under a beautiful Carolina sky, the golf culture of Anderson Creek Club was evident as many neighbors arrived to the anniversary ceremony on golf carts (with golf clubs) and parked under the tall pine trees. The community spirit was also present with a flag detail provided by four Boy Scouts in Anderson Creek Club troops and many volunteers working the event.
Special attendees included Sen. Jim Burgin (R-Harnett), retired Sen. Ron Rabin, Harnett County Commissioners Brooks Matthews and Mark Johnson, Harnett County Economic Development, Select Bank Senior Vice President Van Gunter, JCW Construction representative Brad Woodrow, Scouts BSA Occoneechee Council Commissioner Kirk Johnson and Executive Erin Zeek.
Burgin spoke to the attendees and remembered his friend David, who saw the potential of this part of Harnett County, the great investment opportunity, and recognized the tremendous results.
Burgin recognized Levinson's impact and vision for a secure neighborhood where neighbors could get to know one another, play together outside and create a community lifestyle. Levinson's vision included a community with many diverse types of homes reflecting different lifestyles. He was the first to invest in high-speed internet for all of the homes, long before COVID-19 made that a priority.
Burgin also spoke of Levinson's desire to build a state-of-the-art Charter School – which became one of the best schools in Harnett County. He acknowledged the many retirees in the area who have kept working in schools and in many volunteer organizations. And he recognized the work of Commissioner Brooks Matthews. Burgin encouraged everyone to preserve the legacy of David Levinson through work to make the community and Harnett County continue to thrive.
Dr. Micah Levinson, son of the developer, and his mother, Marilyn Levinson, unveiled a nearly lifesize statue of David Levinson. The statue, which was commissioned with private funds, is surrounded by multiple seating areas planted with azaleas and becomes part of the park in the Inner Circle Neighborhood of Anderson Creek Club. Levinson is also memorialized in the renaming of the park as David Levinson Memorial Circle.
Dr. Micah Levinson said that his father never wanted to leave Anderson Creek. As he looked to the statue he mused, "With this statue, he never will."
In closing, Steve Shotz, a business partner of Anderson Creek Club, thanked everyone for attending the event and announced the establishment of the David Levinson Memorial Scholarship to provide merit-based education scholarships for the 2022 academic year.
Custom bronze statue designed and cast for Anderson Creek Club by Randolph Rose Collection, NY.